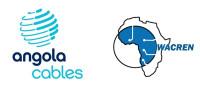 Source: Angola Cables |
Angola Cables and West and Central African Research and Education Network (WACREN) collaborate to expand connectivity among West and Central African research & education institutions
The agreement will support the growing connectivity among academic communities across West and Central Africa
Angola Cables recognises the need for African scientists, researchers and other academics to have bandwidth comparable to their international colleagues
LUANDA, Angola, December 19, 2017/APO Group/ --
Angola Cables (www.AngolaCables.co.ao) today announced an agreement with the West and Central African Research and Education Network (WACREN) (www.WACREN.net), the regional research and education network (REN) that facilitates interconnections between national RENs in West and Central Africa. The agreement will support the growing connectivity among academic communities across West and Central Africa, including services that foster collaboration between research and education institutions within and beyond the region.
According to Antonio Nunes, CEO of Angola Cables: "WACREN is an important player in Africa's growing connectivity requirements, and Angola Cables recognises the need for African scientists, researchers and other academics to have bandwidth comparable to their international colleagues."
Angola Cables is part of the consortium of companies that manage the West Africa Cable System (WACS), which provides carrier-level services to operators in Angola and in the Sub-Saharan region of Africa. The company is also building the South Atlantic Cable System (SACS) between Angola and Brazil that is expected to be completed in mid-2018, which will connect to the Monet submarine cable system – linking Santos and Fortaleza in Brazil, and Boca Raton, Florida, in the USA – a project which is currently being completed.
"As we grow our alliance, Angola Cables will certainly play an important role in enabling us to boost the connectivity in our region and beyond, and allow our members to collaborate more efficiently among themselves and with colleagues in other parts of the world," said Boubakar Barry, CEO of WACREN.
As part of its work in the region, WACREN was involved in the TransAfrican Network Development (TANDEM) a project that aims to expand integration into the global REN community, as well as Sci-GaIA (Energizing Scientific Endeavour through Science Gateways and e-Infrastructures in Africa), an Africa-wide project that produces educational and training resources in various fields of science, and MAGIC (Middleware for collaborative Applications and Global virtual Communities), all funded by the European Union. WACREN is also implementing the AfricaConnect2 project, in collaboration with its European counterpart GEANT.
Distributed by APO Group on behalf of Angola Cables.
Media contacts:
Andrew Fletcher Cole
Atmosphere Communications
AndrewC@Atmosphere.co.za
+27 (0)79 483 3208
WACREN Media
Media@WACREN.net
+233 205228693
About Angola Cables
Angola Cables (www.AngolaCables.co.ao) is a multinational telecommunications company founded in 2009, who operates in the wholesale market and whose core business is international transmission capacity in Submarine Cable Systems and IP Transit. SACS, Monet and WACS, three cable systems operated by Angola Cables, interconnect four continents (South America, North America, Africa and Europe). Angola Cables runs Angonix, an Internet Exchange Point located in Luanda and third largest in Africa. Angola Cables also manages two Tier III data centres, in Fortaleza (Brazil) connected to SACS and Monet and in Luanda, connected to SACS and WACS. For more information, visit http://www.angolacables.co.ao.
About WACREN
WACREN (www.WACREN.net) is the West and Central African Research and Education Network which supports interconnections and fosters collaboration between R&E institutions in the region and international peers by building and operating a world class network infrastructure, developing state of the art services, promoting collaboration among national, regional, and international R&E communities, and building the human capacity of the REN community.
Constituted in 2010, membership is open to all 22 countries in the region and it currently has 12 participating NRENs from Burkina Faso, Cameroon, Chad, Côte d'Ivoire, Ghana, Guinea, Mali, Niger, Nigeria, Sierra Leone, and Togo. WACREN has also two Associate members from France and Nigeria. For more information, visit www.WACREN.net